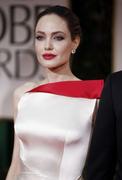 Angelina Jolie is in talks to direct a World War II drama. This drama is about Louis Zamperini, an Olympian-turned-World War II prisoner of war, who survived on a raft for weeks after a plane crash before being captured.
Jolie said in a statement, "I read Laura Hillenbrand's brilliant book, and I was so moved by Louie Zamperini's heroic story, I immediately began to fight for the opportunity to make this film."
"Louie is a true hero and a man of immense humanity, faith and courage. I am deeply honoured to have the chance to tell his inspiring story."
Source