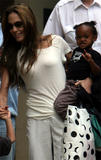 According to reports, Tsegaye Berhe,who is the head of Wide Horizons for Children, which conducted the adoption of Zahara for Angelina Jolie insists that it was "legal and irrevocable.
It seems that Zahara's family wants her back. Zahara's mother Mentewab Dawit Lebiso was raped by a stranger who broke into her home and gave birth to Zahara. After she ran away.
Mentewab'smother allegedly signed the baby over for adoption and thought they will see Zahara again and able to keep in touch. But this wasn't done.
Image source from
here
Source