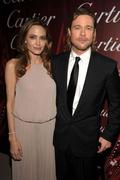 There are rumours saying that Angelina Jolie and Brad Pitt may tie knot in May because they have been asking close friends to keep the last week of May free.
An insider told the new UK issue of Grazia magazine: "Brad has asked those closest to him to make sure they're free the week after the Cannes Film Festival finishes on 26 May."
"Brad will be in Cannes with Angelina and the kids to promote World War Z. He has also blocked out a couple of weeks in his work schedule afterwards, which has made his friends even more certain."
A local source said: "Everything is pointing to the end of May or begging of June.
"Plus all of Brad and Angelina's closest friends in the industry will be in town for Cannes."
Source