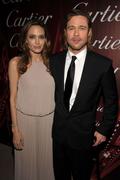 Brad Pitt and Angelina Jolie are getting married soon and they plan to have tattoos to mark their wedding.
A source tells US, "When Angelina Jolie and Brad Pitt finally take the plunge into matrimony this summer they are going to mark the occasion with something even more lasting than jewelry: They plan to get special tattoos."
"They're finalizing designs now, but all they'll say is it will be 'very intimate.'"
"Angelina loves complicated and deeply thought-out tattoos that only have meaning to her and those closest to her. Brad likes something more visual and even suggested they do something a little silly, like a favorite cartoon character."
"They can't seem to decide what size and on which body part they should add the new decorations."
Source